Item name:
hand lever hand throttle accelerator hall regulator 0-5V, trigging

Brand:
Luoyang GJ PPCC Co. Ltd.

model/type & pictures:
GJ-146
performance data:

hall regualator output voltage (not motor voltage):

0 – 5 Volt +/- 0.3V DC

operating voltage / input:

5 Volt DC

current consumption:

max. 25mA

jack wiring, pin no, colours:

3; 1:black (-), 2:green (Signal), 3:red (+)

cable length:

150 cm, protectice hose

working temperature:

-40°C - +85°C
Note:
This regulator lever works with a hall sensor, it is no poti (potentiometer).
further attributes:
-inhouse and outside installation
-trigging, no reset, keeping its position
-stop fences, no overtighting
-robust handle, moulded plastic
-colour: black
-two mounting holes
-dust-& water proof
-Ingress Protection Rating IP–Code IP68
-working angle 60°
-operating force, stepless adjustable, up to approx. 2.5Kgs / 25N
-weight 600g
-CE certified
-legal warranty: 24 month
technical drawing: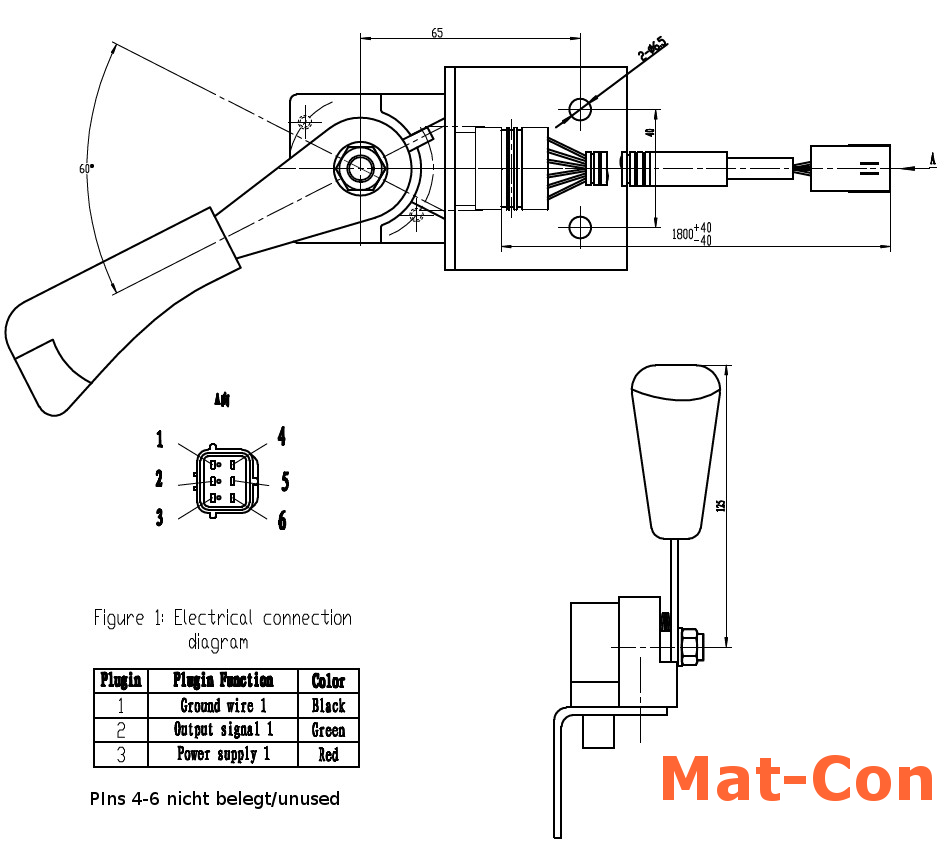 Click to enlarge
Dimensions:

height incl. mounting plate

205 mm (lever in middle position)

length incl. mounting plate

70 mm

depth, incl. m.-plate, throttle full open

110 mm
Areas of applications:
This electric monolever throttle is suitable for all vehicles, machines and devices which should hold its speed, e. g. for electric boat / ship / yacht, (construction) machine, tensile device, railway, garden railway, small railway, big railway, steam railway, park railway, model railway, narrow gauge railway, air plane, helicopter, model making, miniature making, theater engineering, stage
engineering... .
The analog hand regulator must be connected on a motor controller to regulate the speed of the electric motor.

Available accessories:
controllers, electric motors …
keywords:
Mono-lever, hand control, single lever, hand joystick, speed throttle, electric boat, nautics electric drive control, marine remote control…