Item name:
Controller for 2 electric DC motors each 250W 36V 20A, with reverse
Brand:
Zhejiang Unite Electric Motor Co., Ltd. / Yongkang YIYUN Elektronic Co., Ltd.
Model/type & pictures:
LB65A
Performance data:

voltage

36 V

threshold voltage

31 +/- 0,75 V

power

2x <= 250 W

current

2x <= 20 A +/- 0,5 A
External dimensions:

length

14,3 cm

width

6,9 cm

height

3,9 cm

Further attributes:
-for 2-pole electric DC motors, 2 pcs
-forward/reverse running in pairs
-separated forward/reverse running
-CE certified
-housing material: aluminium
-mounting holes
-legal warranty: 24 month
Connection plan: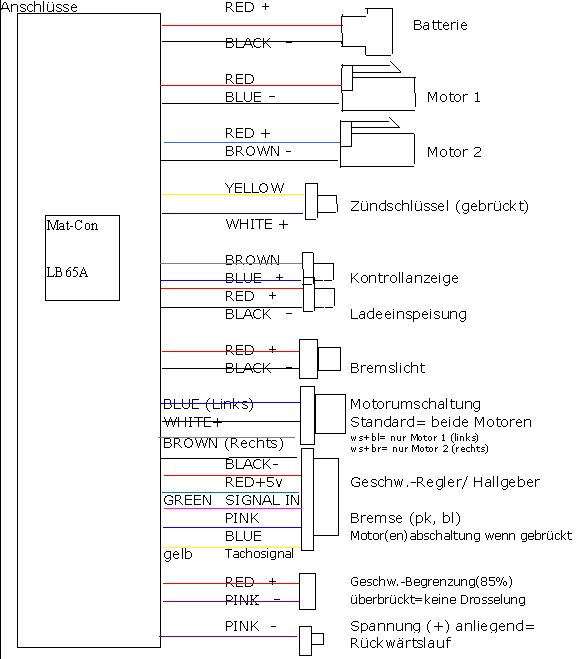 Note: Delivery includes fuse set.

Areas of applications:
This direct current electric motor controller for two motors is suitable e. g. for tricycle, quad bike, electric quad bike, kids quad bike, longboard, electric board, e-board, soap-box, rickshaw, trishaw, Velotaxi, tensile device, tensile device for wheelchairs, electric wheelchair, railway, garden railway, small railway, big railway, steam railway, park railway, model railway, narrow gauge railway, cart, electric car, e-car, golf cart, plane, model making, miniature making, model tank, model caterpillar, theater engineering, stage engineering, industry, machines... .
This DC Controller manages the whole board electric, like motor speed, light, controll lamp, charge input, brake, brake light... .
Available accessories:
Motor, lead acid battery, charger, throttle, pedal, relay, switch ...