Item name:
Electric motor DC 450W 24V with sprocket
Brand:
Zhejiang Unite Electric Motor Co., Ltd.
Model/type & pictures:
MY7618
Performance data:

power output

450 W / 24 V

rated current

<=24 A

rated speed (rpm)

3000 +/- 3,5 %

max. speed (rpm)

3400 +/- 3,5 %

current without load

0,8 – 1,8 A

rated torque

1,43 Nm +/- 5 %

transmission

chain sprocket (11 teeth, pitch 1/4"=6,35 mm), exchangeable, fixation nut

shaft diameter

10 mm (milled groove both-sided 1,5 mm)

efficiency

>=78%

weight

2,1 KG

Characteristic curve: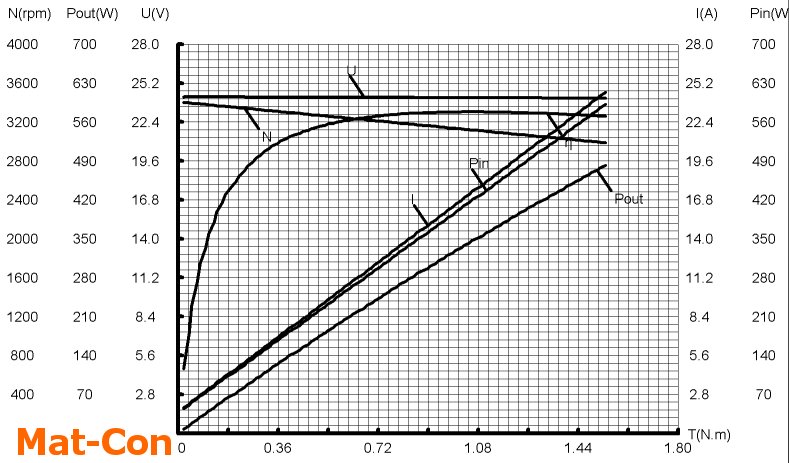 Click on picture to enlarge.
External dimensions:

housing length

12,9 cm

housing width / height / diameter

10,0 cm

distance between screw threads
at the front plate for mounting

4,35 cm

distance screw threads to outer edge

1,25 cm

Technical drawing & dimensions: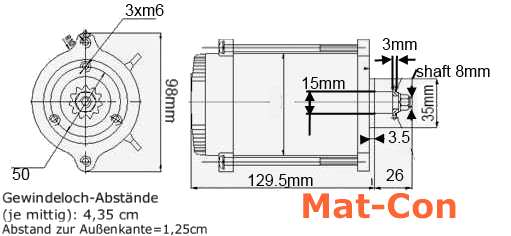 Click on picture to enlarge.
Further attributes:
-carbon brushes, 4pcs
-ball bearing
-Ingress Protection Rating IP–Code: IP33
-CE certified
-both sides turning
-legal warranty: 24 month
Areas of applications:
This direct current electric motor is suitable e. g. for electric scooter, (SMFC) scooter, e-scooter, fun-scooter, trottinette, pocket bike, pocketbike, tricycle, quad bike, electric quad bike, kids quad bike, longboard, electric board, e-board, electric bike, e-bike, recumbent bike, soap-box, rickshaw, trishaw, Velotaxi, tensile device, tensile device for wheelchairs, electric wheelchair, railway, garden railway, garden railway, small railway, big railway, steam railway, park railway, model railway, narrow gauge railway, cart, electric car, e-car, golf cart, hand bike, pedal boat, electric pedal boat, plane, helicopter, model making, miniature making, theater engineering, stage engineering, ... .
Also suitable as generators to power generation, e. g. for wind turbines, wind generators, windmills, waterworks, water wheels, water turbines, water generators etc.
Available accessories:
Controllers, lead acid batteries, chargers, throttles, chains, chainrings, sprockets ...