Item name:
gas pedal accelerator brake pedal foot throttle hall regulator 0-5V, with switch

Brand:
Sayoon Electric Ltd.
Model/type & pictures:
JKH

Performance data:

hall regulation output voltage (not motor voltage)

0 – 5 V DC out

hall regulation input voltage

5V DC in

cables, colour coding
hall throttle:
momentary switch (NO=normal open):


3 wires; red (+), black (-), green (Signal)
2 wires; yellow, blue

momentary switch basics

resistive load current. max. 2A
inductive load current. max. 1A
max. voltage 96V

cable length

65 cm
Note: This regulator works with a hall sensor, it is no poti (potentiometer).
This foot hall regulator throttle has built-in switch with normal open contact which is always active when throttle is in use. That is why you can use it as brake pedal for controllers with stepless 4q motor braking especially.
Technical drawings / measurements: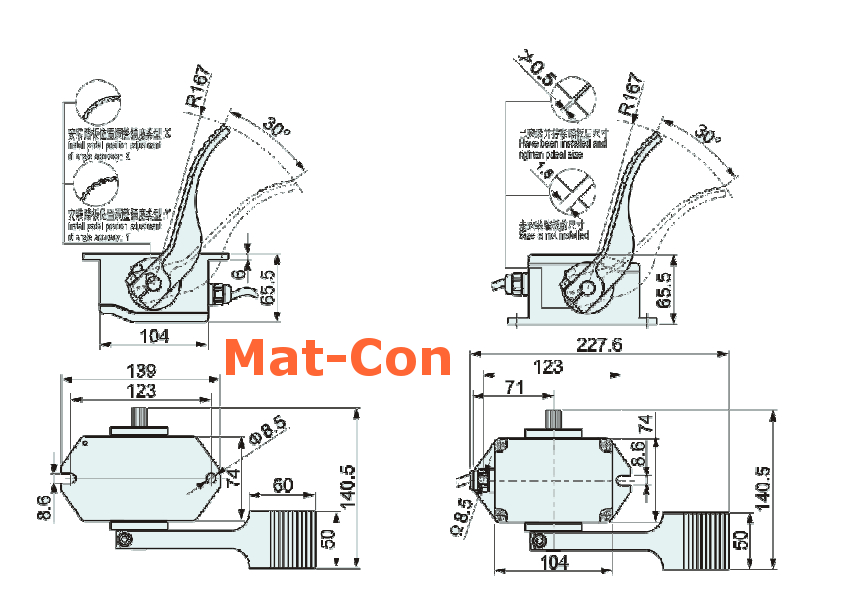 Please click to enlarge
Further attributes:
-aluminium housing
-two mounting holes
-moisture- and dust- proof
-Ingress Protection Rating IP–Code IP68
-horizontal and hanging mounting
-working range 30°
-starting position of pedal is arbitrary, left or right side because of shaft end-to-end
-weight 1000g
-CE certified
-legal warranty: 24 month

Areas of applications:
This hand regulator is suitable e. g. for electric scooter, (SMFC) scooter, e-scooter, fun-scooter, trottinette, pocket bike, pocketbike, tricycle, quad bike, electric quad bike, kids quad bike, longboard, electric board, e-board, electric bike, e-bike, recumbent bike, soap-box, rickshaw, trishaw, Velotaxi, tensile device, tensile device for wheelchairs, electric wheelchair, railway, garden railway, small railway, big railway, steam railway, park railway, model railway, narrow gauge railway, cart, electric car, e-car, golf cart, hand bike, pedal boat, electric pedal boat, plane, helicopter, model making, miniature making, theater engineering, stage engineering, industry, machines... .
This foot throttle must be connected on a motor controller to regulate the speed of the motor and if you use a 4q recuperation controller it is suitable for the regenerative brake also.

Available accessories:
controller, motor, lead acid battery, charger, relay ...