Item name:
electric motor 3KW (max. 5KW) 27Nm 3000rpm 48V BLDC

Brand:
W A Electrical Machinery Co. Ltd.

Model/type & pictures:
WA_3KW
| standard, with mounting plate | without plate, inside shaft | active cooling | |
| --- | --- | --- | --- |
Performance data:

power output

3000W (peak 5KW) / 48 V

rated current

<=65 A (max. 100A)

rated speed (rpm)

3000 +/- 5 %

max. speed (rpm)

3750 +/- 5 %

current without load

<= 5 A

rated torque

27 Nm +/- 5 %

shaft

length 35mm, diameter 14mm, groove&tongue (L:22mm, W:6mm); shaft's end with c-clip

efficiency

>=88%

weight

15 KG
External dimensions:

housing length

235 mm

housing width

165 mm

total height (with plate)

185 mm
Plate dimensions:

length

165 mm

width

130 mm

lengthwised hole distance

103 mm

widthwised hole distance

102 mm
Further attributes:
-brushless(BLDC) motor with hall sensors
-3-phase
-ball bearing
-both sides turning
-operation noise <50 dB
-CE & CCC certified
-Ingress Protection Rating IP–Code IP54
-legal warranty: 24 month

Note:
This motor is also availabe with:
- inside shaft & internal teeth, without mounting plate / foot
- planetary gearbox
- transaxle and various axles
Technical drawing & dimensions: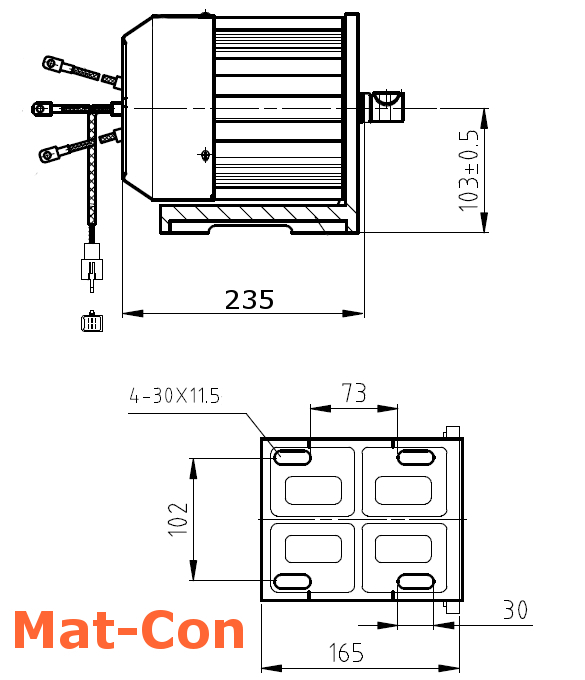 Areas of applications:
This wearless direct current BLDC electric motor is suitable e. g. for e-scooter, tricycle, motorcycle, cross bike, quad bike, electric quad bike, rickshaw, trishaw, Velotaxi, park railway, ,go-cart, electric car, e-car, mini car, city car, golf cart, model making, miniature making, boat engine, theater engineering, stage engineering, industry, machines... .
Available accessories:
BLDC Controller, lead acid battery, charger, throttle, pedal...