Item name:
relay JQX-38F 24V DC 40A, 3-pole
Brand:
WENZHOU DAQUAN ELECTRIC CO.,LTD.
Model/type & pictures:
JQX-38F
| stock photo | |
| --- | --- |
Note: This relais can be used for turning on/off or reversing a dc motor.
Performance data:

poles

3

inductor voltage

24 V

threshold voltage

20 +/- 0,5 V

power

up to 1000 W

max. current

40 A +/- 1A
External dimensions:

length

8,5 cm

width

4,4 cm

height

8,7 cm
Further attributes:
-CE certified
-dust-proof
-mounting holes
-legal warranty: 24 month
Connection plan: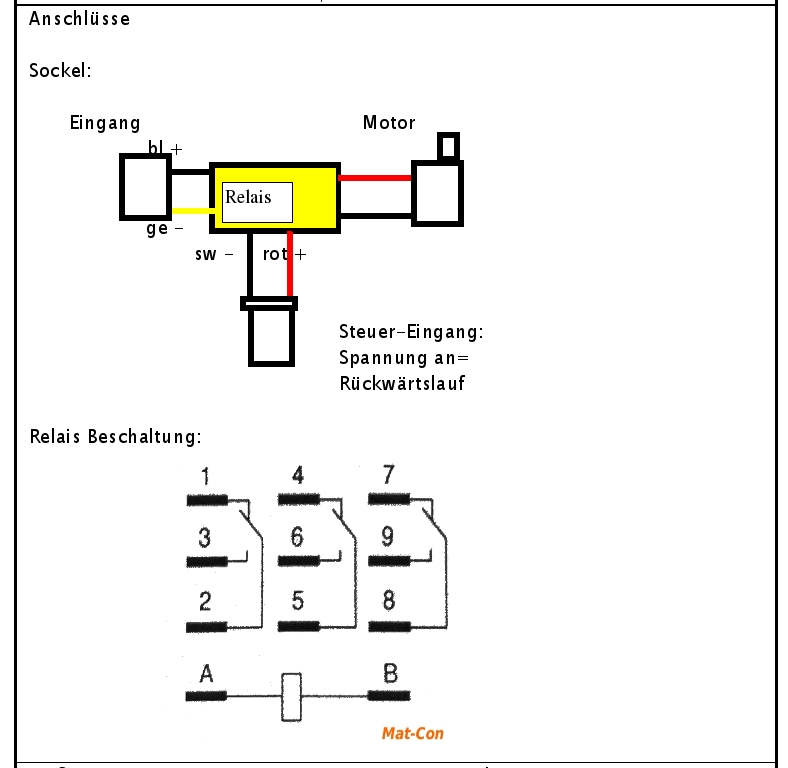 Areas of applications:
This direct current relay is suitable e. g. for electric scooter, (SMFC) scooter, escooter,
fun-scooter, trottinette, pocket bike, pocketbike, tricycle, quad bike, electric quad bike, kids
quad bike, longboard, electric board, e-board, electric bike, e-bike, recumbent bike, soap-box,
rickshaw, trishaw, Velotaxi, tensile device, tensile device for wheelchairs, electric wheelchair, railway,
garden railway, small railway, big railway, steam railway, park railway, model railway, narrow gauge
railway, cart, electric car, e-car, golf cart, hand bike, pedal boat, electric pedal boat, plane,
helicopter, model making, miniature making, theater engineering, stage engineering, industry,
machines... .

This relay will not supersede a motor controller!
Available accessories:
tumbler switch, controller, Motor, lead acid battery, charger ...