Item name:
Series excited brush DC E-Motor 1.5KW 12V 6Nm 2300rpm cw/ccw

Brand:
Jinle Automobile Motor Factory

Model/type & pictures:
W9144

Performance data:

power output

1500W / 12 V

rated current

190 A

current without load

58 A

rated speed (rpm)

2300 +/- 5 %

max. speed (rpm)

7300 +/- 5 %

rated torque

6 Nm +/- 5 %

shaft

length 37mm, diameter 20,5 mm, grooved

efficiency

<=67 %

weight

8.0 KGs
External dimensions:

housing length

208.5 mm (without shaft)

housing width/diameter

114 mm (without connectors & front flange)

flange mounting holes
distance (diagonal, centered)

101.6 +/- 0.175 mm, thread 4-3/8"-24
Characteristic curves: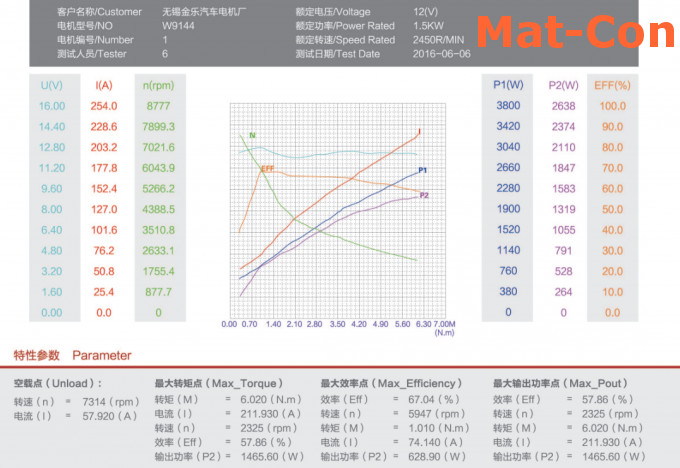 Click to enlarge.
Further attributes:
-Series DC direct current motor with electric field excitation, series excited e-motor
-4 carbon brushes, low-wearing
-4 connectors (1x brushes, 2x armature (field) coils [positive pole], 1x housing [negative pole];
alternating bypass of brush(es) to 1x armature coil (depending on turning direction))
-ball bearing
-CE & ISO9001:2000 certified
-both sides turning
-Ingress Protection Rating IP–Code IP54
-Insulation Class: F
-working duty S3
-legal warranty: 24 month
Technical drawing & dimensions: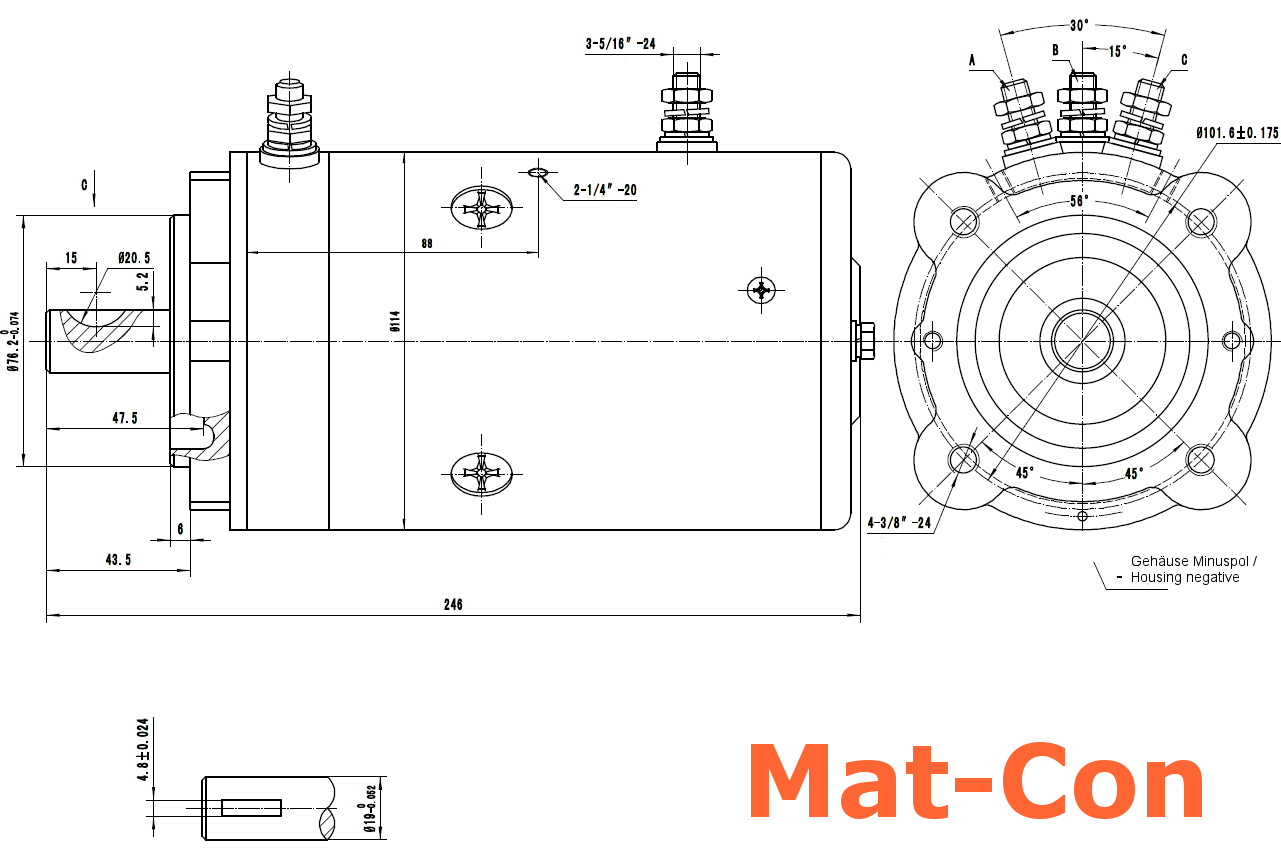 Areas of applications:
This series wound direct current electric motor with brushes and without magnets is suitable e. g. for
rickshaw, trishaw, Velotaxi, park railway, ,go-cart, electric car, e-car, mini car, city car, golf cart, model making, miniature making, boat engine, theater engineering, stage engineering, industry, machines... . This motor often is also used for pumps, hydraulics etc. .
Available accessories:
motor driver (controller), hall regulator, charger, rechargeable battery, chain, chain blade...