Item name:
DC e-motor controller 12-48V, max. 100A 2.2KW, reverse

Brand:
Jinan Keya Electronic Co., Ltd

Model/type & pictures:
12-48RT100BL-XW
Performance data:

working voltage

power range*

rated current

max. current, peak
(max. 60 sec)

12V DC

<= 550W

50A

100 A

24V DC

<= 1100W

50A

100 A

36V DC

<= 1600W

50A

100 A

48V DC

<= 2200W

50A

100 A

*) rated power when rated voltage / Depending on motor's efficiency..

operation frequency

2 kHz

standby current

15 mA
Further attributes:
- for 2-pole electric DC motors
- PWM – Technology
- intelligent high-power DC motor driver
- high performance MCU
- reverse function = for- & backward, right + left turning, infinitely
- regulation with hallsensor signal (0-5V) or potentiometer or pulse input frequency 250Hz
- Softstart & Softstop
- Status LEDs
- overvoltage or undervoltage protection
- overload protection
- overheating protection (cut off when 80 °C)
- short circuit protection
- brass connectors for cable shoes (motor + power supply)
- mounting holes
- CE certified
- legal warranty: 24 month
Connection plan: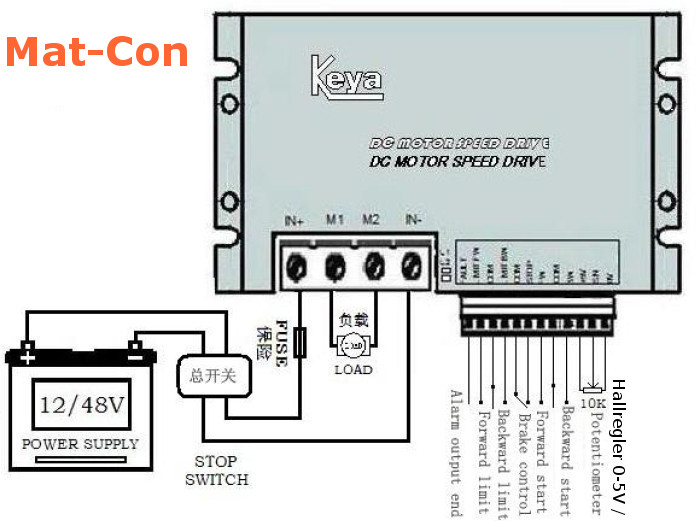 Note: Delivery includes fuse set.
Dimensions & weight:

length

width

height

weight

210 mm

115 mm

63 mm

1.0 Kgs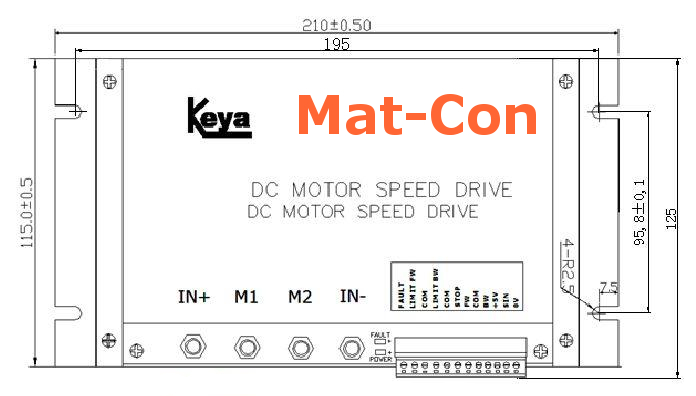 Areas of applications:
This high-power reversible motor driver controller is suitable e. g. for electric scooter, (SMFC) scooter, e-scooter, fun-scooter, trottinette, pocket bike, pocketbike, tricycle, quad bike, electric quad bike, kids quad bike, longboard, electric board, e-board, electric bike, e-bike, recumbent bike, soap-box, rickshaw, trishaw, Velotaxi, tensile device, tensile device for wheelchairs, electric wheelchair, railway, garden railway, small railway, big railway, steam railway, park railway, model railway, narrow gauge railway, cart, electric car, e-car, golf cart, hand bike, pedal boat, electric pedal boat, plane, helicopter, model making, miniature making, theater engineering, stage engineering, industry, machines... .
This pwm regulator manages the infinitely speed of electric DC motor and switches the motor's turning direction forward and reward .
vailable accessories:
Motors,potentiometer, pedal, lead acid battery, charger, switch, key switch … .