Item name:
4Q Controller with recuperation regenerative braking, reverse

Brand:
Jinan Keya Electronic Co., Ltd

Model/type & pictures:
MMT-4Q
| | |
| --- | --- |
| stock photo | |
Performance data:

Model

working voltage

power range

continuous current

rated current

12RT50BL

~ 12V DC (8 – 18V)

<= 600W

30A

50A (max. 30 min)

12RT100BL

~ 12V DC (8 – 18V)

<= 1200W

70A

100A (max. 30 min)

24RT50BL

~ 24V DC (20 – 62V)

<= 1200W

30A

50A (max. 30 min)

24RT100BL

~ 24V DC (20 – 62V)

<= 2400W

70A

100A (max. 30 min)

36RT50BL

~ 36V DC (20 – 62V)

<= 1800W

30A

50A (max. 30 min)

36RT100BL

~ 36V DC (20 – 62V)

<= 3600W

70A

100A (max. 30 min)

48RT50BL

~ 48V DC (20 – 62V)

<= 2400W

30A

50A (max. 30 min)

48RT100BL

~ 48V DC (20 – 62V)

<= 4800W

70A

100A (max. 30 min)
External dimensions & weight:

Model

length

width

height

weight

xxRT50BL

150 mm

115 mm

45 mm

1,0 Kg

xxRT100BL

210 mm

115 mm

50 mm

1,5 Kg
Further attributes:
- for 2-pole electric DC motors
- Four Quadrant regulator
- PWM – Technology
- recuperation = regenerative braking energy
- electric engine brake
- reverse function = for- & backward, right + left turning, infinitely
- regulation with hallsensor signal (0-5V) or potentiometer
- Softstart & Softstop 0,2 – 20 sec
- Status LEDs
- overvoltage or undervoltage protection
- overheating protection
- mounting holes
- CE certified
- legal warranty: 24 month
Connection plan: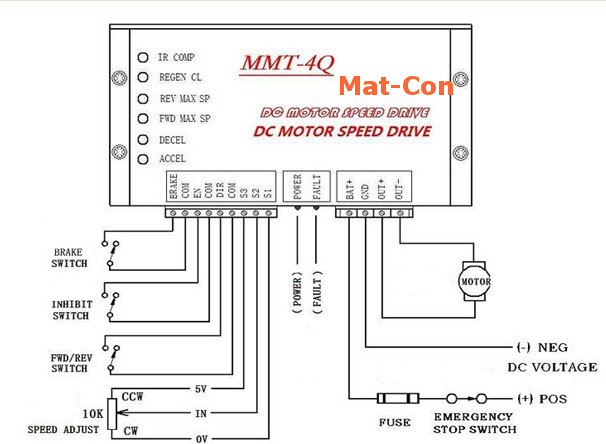 Note: Delivery includes fuse set.
Areas of applications:
This 4 Quadrant reversible controller with regenerative motor braking function (=eddy current brake / hysteresis brake) is suitable e. g. for electric scooter, (SMFC) scooter, e-scooter, fun-scooter, trottinette, pocket bike, pocketbike, tricycle, quad bike, electric quad bike, kids quad bike, longboard, electric board, e-board, electric bike, e-bike, recumbent bike, soap-box, rickshaw, trishaw, Velotaxi, tensile device, tensile device for wheelchairs, electric wheelchair, railway, garden railway, small railway, big railway, steam railway, park railway, model railway, narrow gauge railway, cart, electric car, e-car, golf cart, hand bike, pedal boat, electric pedal boat, plane, helicopter, model making, miniature making, theater engineering, stage engineering, industry, machines... .
This regenerative recuperation regulator manages the infinitely speed of electric DC motor, switches the motor's turning direction forward and reward and uses electric braking, what brings energy back to the batteries / accus.
vailable accessories:
Motor, lead acid battery, charger, potentiometer, pedal, switch, key switch … .