Brand:
Jinan Keya Electron Co., Ltd; produces for Hefei Kelly Technology
Model/type & pictures::
MMT-BLDC SL / equivalent to Kelly KSL
Performance data:
Model /(Kelly model code)

working voltage
(min./max.)

rated power/
peak *

rated
current

peak current

60sec/10sec

24DPW100BL-SL /KSL24100

12-24V DC (8-30V)

1,0/2,0KW

50A

100A

24DPW150BL-SL /KSL24150

12-24V DC (8-30V)

1,5/3,0KW

75A

150A

24DPW200BL-SL /KSL24200

12-24V DC (8-30V)

2,0/4,0KW

100A

200A

24DPW300BL-SL /KSL24300

12-24V DC (8-30V)

3,0/6,0KW

150A

300A

48DPW100BL-SL /KSL48100

24-48V DC (18-60V)

2,0/4,0KW

50A

100A

48DPW150BL-SL /KSL48150

24-48V DC (18-60V)

3,0/6,0KW

75A

150A

48DPW200BL-SL /KSL48200

24-48V DC (18-60V)

4,0/8,0KW

100A

200A

48DPW300BL-SL /KSL48300

24-48V DC (18-60V)

6,1/12,2KW

150A

300A

48DPW400BL-SL /KSL48400E

24-48V DC (18-60V)

8,2/16,4KW

200A

400A

48DPW500BL-SL /KSL48500E

24-48V DC (18-60V)

10,0/20,0KW

250A

500A

72DPW100BL-SL /KSL72100

24-72V DC (18-90V)

3,0/6,0KW

50A

100A

72DPW150BL-SL /KSL72150

24-72V DC (18-90V)

4,6/9,2KW

75A

150A

72DPW200BL-SL /KSL72200

24-72V DC (18-90V)

6,1/12,2KW

100A

200A

72DPW300BL-SL /KSL72300

24-72V DC (18-90V)

9,2/18,4KW

150A

300A
*) When max. rated voltage, or else lower. / Depending on motor's efficiency.

frequency of operation

16,6 kHz

motor phases

3, for brushless motors without hall sensors

weight

approx. 1,3 – 4,0 KGs
External dimensions:

housing length

17,2 cm

housing width

14,6 cm

height

6,2 cm
Further attributes:
- usuable for brushless (BLDC) (direct current) motors without hall sensors or
when hall sensors are defect
(with [operative] hall sensors: please see our controllers MMT BLDC )
Controlling with hall sensors is preferring because of optimum motor's behavior
- Intelligent control by microprocessor
- powerful MOSFETs inside
- stepless control of speed/braking by seperate hall regulator 0-5V or potentiometer
- recuperation = regenerative braking energy
- brake switch regen, smooth; ABS
- reverse function = for- & backward, right + left turning, infinitely
- supports motor current limit, torque mode, speed mode, balanced mode (customizable)
- CAN-Bus optionally (upcharge)
- programmable over RS232 interface (MS Windows API)
- overvoltage and undervoltage protection
- overheating protection (+ optional motor's thermistor)
- up to 17,000 electric rpms (ERPM)
- max. number of motor poles depending on motor's rpm
- wiring fault detection/overrun cut-off
- low EMC
- LED status / fault code
- housing material: aluminium; good heat-dissipating
- splash-water proof
- mounting holes
- CE & CCC certified
- legal warranty: 24 month
Connectors: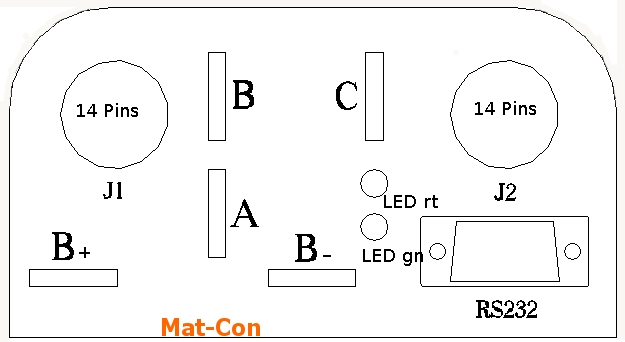 Note:
Delivery contains the controller, both 14pin- cables J1+J2 and user manual.
Areas of applications:
This programmable, electronic reversible brushless sensorless motor controller with regenerative motor braking function (=eddy current brake / hysteresis brake) for BLDC direct current motors without hall sensors is suitable e. g. for e-scooter, tricycle, electric quad bike, rickshaw, trishaw, Velotaxi, park railway, ,go-cart, electric car, e-car, mini car, city car, golf cart, rider-controlled truck, forklift, lifting cart, theater engineering, stage engineering, industry, machines... .
This recuperation regulator manages the infinitely speed of electric BLDC motor , switches the motor's turning direction forward and reward and uses electric braking, what brings energy back to the batteries / accus.
This controller is programmable (soft-start, soft-stop, max. rpm / max. speed...)

Available accessories:
RS232-USB-Cable (you will receive an e-mail with the controller's programming software (win)),
BLDC Motor, lead acid battery, charger, hall regulator (hand trottle, thumb throttle, pedal), key switch, switch ...