Item name:
BLDC Controller 36-72V, max. 60A 3KW, recuperation brake, reverse
Brand:
Mat-Con et al.
Model/type & pictures:
-
| stock photo | | |
| --- | --- | --- |
Performance data:
Model

working voltage
(min./max.)

rated power/
peak *

rated
current

Usuable without hallsensors

dimensions
(deviations possible)

48V30A

48V DC (42-59V)

1.4KW

30A

no

210x80x40mm

48-60V38A

48-60V DC (42-69V)

1.8KW

38A

-

210x80x40mm

36-48V40A

36-48V DC (31-59V)

1.4/1.9KW

40A

yes

210x80x40mm

48-72V50A

48-60-72 DC (42-79V)

2.4KW

50A

-

215x96x48mm

48-72V60A

48-60-72 DC (42-79V)

3KW

60A

-

225x120x65mm
*) When max. rated voltage, or else lower. / Depending on motor's efficiency.

motor phases

3

hall position sensor

Hallsensors (60° & 120°), automatic detection
Depending on controller type: no hallsensors neccessary

weight

approx. 1 KG
Further attributes:
- usuable for brushless (BLDC) (direct current) motors with & without hall sensors
- any number of motor poles supported
- Intelligent control by microprocessor
- powerful MOSFETs inside
- high efficiency, least possible dissipation
- stepless control of speed by hall regulator 0-5V & 0,8-4,5V or potentiometer
- recuperation = regenerative braking energy, two-level, recharging battery
- reverse function = for- & backward, right + left turning, infinitely
- undervoltage protection
- housing material: aluminium; good heat-dissipating
- splash-water proof
- mounting holes
- CE & CCC certified
- legal warranty: 24 month
Wiring scheme: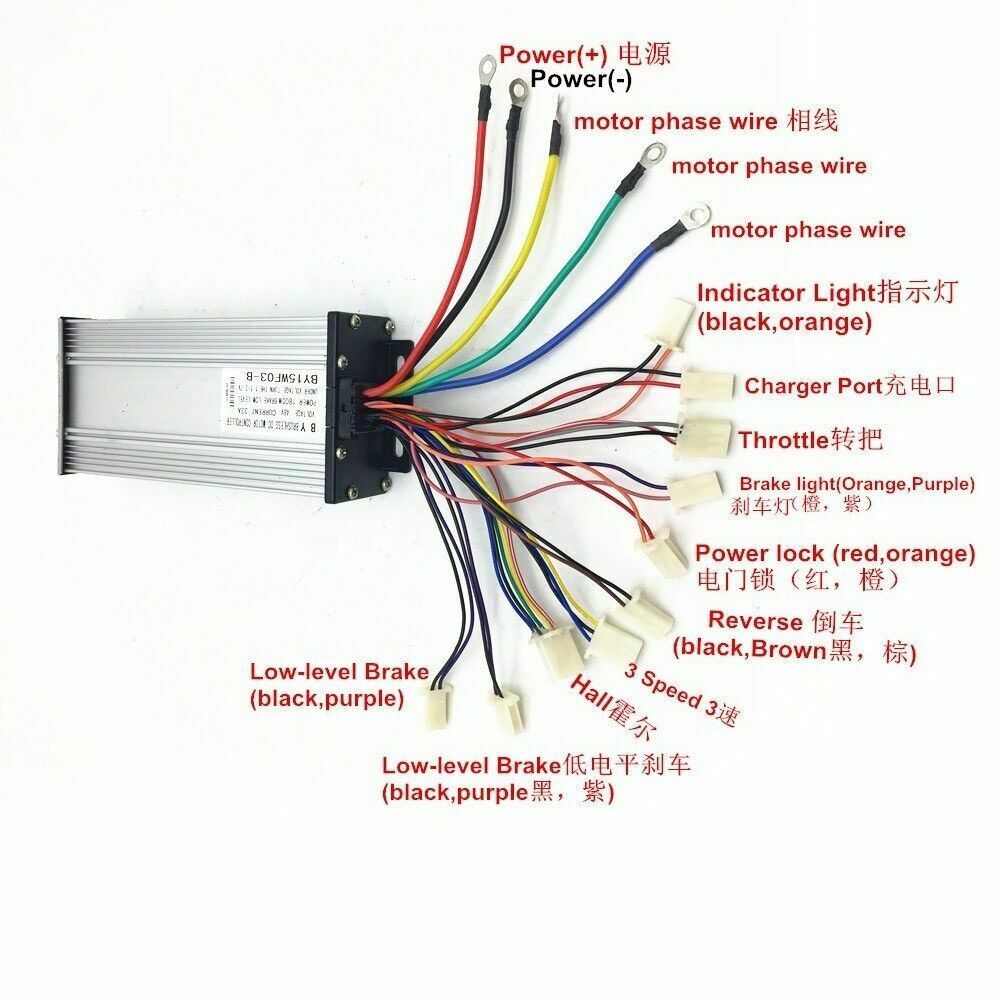 Note:
Deviations possible, connectors & cables maybe vary. Most of the wires are optional and are not neccessary for controller usage.
Delivery includes matching wiring plan/scheme & fuse set.
Areas of applications:
This 4 Quadrant reversible controller with regenerative motor braking function (=eddy current
brake / hysteresis brake) is suitable e. g. for e-scooter, tricycle, quad bike, electric quad bike,
rickshaw, trishaw, Velotaxi, park railway, ,go-cart, electric car, e-car, mini car, city car, golf cart, rider-controlled truck, forklift, lifting cart, model making, miniature making, theater engineering, stage engineering, industry, machines... .
This regenerative recuperation regulator manages the infinitely speed of electric DC motor, switches
the motor's turning direction forward and reward and uses electric braking, what brings energy back
to the batteries / accus.
This DC Controller manages the regulation of the brushless (BLDC) motor.
Available accessories:
BLDC Motor, hall regulator (hand trottle, thumb throttle, pedal, hand lever), (key) switch... .