Item name:
Spur gear electric motor DC 180W 12V 8,5-30Nm 50-160RPM

Brand:
Zhejiang Unite Electric Motor Co., Ltd. / RuiPu Co., Ltd.

Model/type & pictures:
MY7712GZ / RP-FO-180
Performance data:

power output

180 W (max. 240W) / 12 V

rated current

~ 20,0 A / max. 50,0 A

current without load

<= 1,8 A

rated speed (rpm)

50 - 160 +/- 5 %

unrated speed (rpm)

200 +/- 5 %

rated torque / max.

8,5 Nm / max. 30,0 Nm +/- 5 %

shaft

hollow shaft, full-length, opening both-sides, pin bore,
diameter outer 17mm, inner 12mm

transmission ratio

16.5:1

efficiency

~ 50%

weight

3,0 KGs
Average of power array: 15Nm. 110rpm, 180W, 20A
Characteristic curve: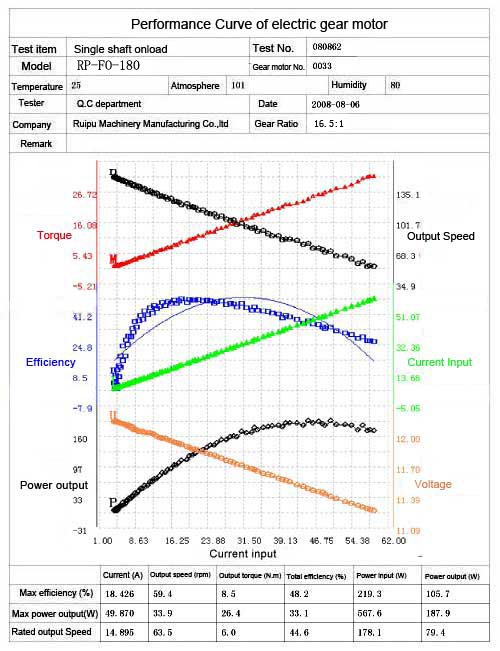 Click on picture to enlarge.
External dimensions:

Length (without shaft)

17,3 cm

Height

15,5 cm

Width (gearbox only)

13,8 cm
Technical drawing & dimensions: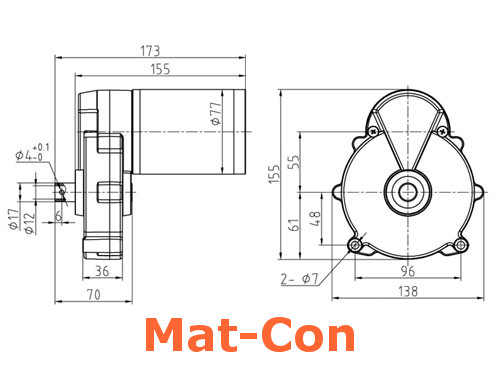 Further attributes:
-carbon brushes
-ball bearing
-maintenance-free grease lubrication
-Ingress Protection Rating IP–Code: IP33
-CE certified
-both sides turning
-two mounting holes at gearbox housing, full-length, 7mm -legal warranty: 24 month
Areas of applications:
This spur geared direct current electric motor with gearbox is suitable e. g. for pocket bike, pocketbike, tricycle, quad bike, electric quad bike, kids quad bike, recumbent bike, soap-box, rickshaw, trishaw, Velotaxi, tensile device, tensile device for wheelchairs, electric wheelchair, railway, garden railway, small railway, big railway, steam railway, park railway, model railway, narrow gauge railway, cart, golf cart, golf caddy, hand bike, pedal boat, electric pedal boat, plane, helicopter, model making, miniature making, theater engineering, stage engineering, industry, machines... .
Available accessories:
Controllers, relay for left/right running, handgrip, thumb throttle, pedal, lead acid battery, charger...